Create a Microsoft Azure account
What to prepare in advance
Please prepare the following in advance.
Microsoft account (registrationinstructions are available in Create a Microsoft Account)
Credit or debit card (in the case of the free version, you will not be charged, but you will not be charged for your registration information)
Landline or mobile phone (required for authentication)
How to register
Now that you're creating a free version of your account, go to the Create a free Azure account now page from your web browser. When you're on the page, click the "Get started for free" button.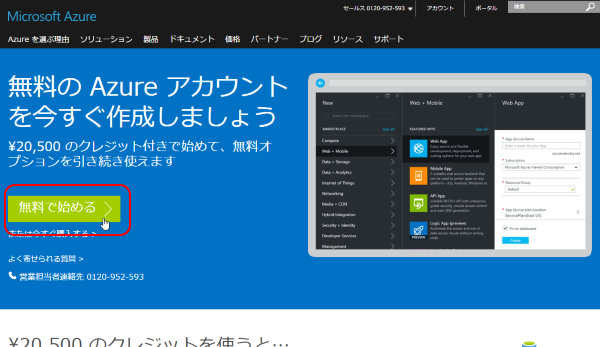 Enter the email address and password for the Microsoft account you have already created.
If you enter your email address, you may be redirected to another page for some reason, but then type from there.
If you haven't logged in for a while, you may see the screen in the picture below, so click Next.
If you have set up two-step verification, you will see the screen in the figure below, so you will receive the code by email and click "Next" to enter the code.
The flow so far varies from person to person, but from the screen below, you will find the Registration screen for your Microsoft Azure account. Since there are roughly four items, the first step is to Your information.
Your email address is fine with the email address of your Micorsoft account you just used.
The phone number is different by region, but it is safe to type it.
「2. "Identity verification by phone" will be authenticated by phone. Enter the number of the phone you have. If it is a mobile phone, the break of the digit is amusing, but there is no problem to enter as it is.
If you can receive text messages on your mobile phone, click the "Receive text message" button and enter the code you received. In my case, PHS didn't receive a text message, so I decided to click the "Receive verification code on the phone" button to listen to the code by phone. By the way, as soon as you click this button, you will receive a call, so please have your phone handy.
In the case of phone calls, you will unilaterally say a six-digit code twice in English from the other side, so enter the code. You don't have to talk here. Once you've entered the code, click the Check Code button.
「3. Please enter your credit card information in "Card Verification". If you enter incorrect information or enter your credit card information that has already been registered, you may not be able to register.
「4. "I agree to the Subscription Agreement, Plan Details, and Privacy Statement." check the "Sign up" button. Please refer to the linked page of the statement as needed.
Follow the steps and register when you see the following dashboard page. Make sure you register your web browser favorites and put them on this page immediately.