create an .ico file in paint.net
Environment
paint.net

4.1.5
Works with other versions

IcoCur (
At first
paint.net how to use image files to create an .ico file from a single image file. paint.net's standard features don't allow you to create .ico files, but you can do so by using the IcoCur plug-in.
downloading and installing the paint.net
There is no particular caveat, so if you do not have it, please install it.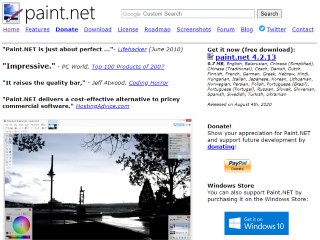 Download plug-ins (IcoCur)
Download from the following URL: Note that the link is in the middle of a thread.
Remove IcoCur.dll from the downloaded file.
Deploying Plug-ins
paint.net you have installed IcoCur.dll in the default folder, place IcoCur.dll:
C:/Program Files/paint.net/FileTypes
Create an .ico file
paint.net and open the image file. Because the icon is a square, a square is preferable for the original image. There is no specific size of the original image.
From the file in the menu, select Save As.
If you have a plug-in, Icons (.ico) has been added to the file type, so select it and save it.
You will then be asked to select the size of the images you want to include in the .ico file. Selecting the size and number of colors is optional, but you may want to choose:
256x256, PNG
48x48, 32-bit
32x32, 32-bit
16x16, 32-bit
If confirmed, an .ico file will be created. Transparent information is also included properly.