Set up an SFTP client in Windows using OpenSSH
Environment
Windows

Windows 10 Pro
Windows Server 2019
More Windows

Openssh
※ Works in other versions, but is unconfirmed
At first
SFTP is a mechanism for sending and receiving files between two PCs , usually divided into clients and servers.
This standard is commonly referred to as "FTP", but FTP sends and receives the contents of the transmission and reception in plain text (unencrypted data). It may be read easily by a third party.
SFTP uses an encryption technique called SSH to encrypt the contents of ftp sending and receiving Can be difficult to read by a third party.
This section provides step-by-step instructions on how to use the free OpenSSH to set up the Client Side of SFTP.
Windows 10, Windows Server 2019 and later have an initial openSSH client installed
Windows 10 has an OpenSSH client installed from the beginning, so you don't need to set it up. Can be used instantly.
You can check to see if it is installed by following these steps:
Open Settings from the Start menu.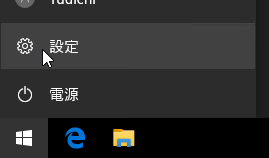 Select Apps.
Select Options from Apps and Features.
You can verify that the "OpenSSH" client is installed.
You may have an OpenSSH client installed on future releases outside of Windows 10.
Setting up in an environment where the OpenSSH client is not initially installed
OpenSSH version of Windows is available, so download and set it up.
Download the file from the following page: For 32-bit OS, download "OpenSSH-Win32.zip" for 32-bit OS or "OpenSSH-Win64.zip" for 32-bit OS. You can use the latest versions, but at the moment they are all Beta versions.
Log in to the PC you want to use as a client and place the files you downloaded and deployed. The location is anywhere, but this time we have created a "C:\OpenSSH" folder and placed it there.
Environment variables
Register environment variables to make OpenSSH easier to work with. As described in Windows 7, the instructions are tailored to the os version.
Right-click Computer from the Start menu and select Properties.
Select Advanced System Settings.
From the Advanced tab, click the Environment Variables button.
In the System Environment Variables, select Path and click the Edit button.
At the very end of the variable value is "; (Semicolon), followed by the path of the folder where you placed the OpenSSH file. When you enter it, you will close everything with the "OK" button.
Summary
This completes the client-side setup. Continue to set up the server and configure SFTP so that you can send and receive files.