Set up Internet Information Services (IIS) on Windows Server
Page update date :

Page creation date :
environment
Windows Server

Internet Information Services
* It works with other versions, but it is unconfirmed.
Installation Instructions
Start Server Manager from the Start menu.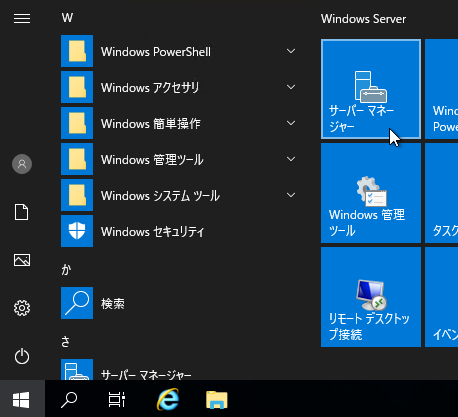 Select Add Roles and Features from the Manage menu.
Select Next.
Ensure that Role-Based or Feature-Based Installation is checked.
Make sure your server is selected.
Check Web Server (IIS).
Since the dialog is displayed, click the "Add function" button as it is.
In particular, it will not be added on the "Select Function" screen.
If you want to use a program that uses ASP.NET, see . NET Framework 4.7" in ASP.NET 4.7, but not required for ASP.NET Core.
Select Next.
In "Select Role Service", you can add the necessary checks depending on the function of the web application you want to use, but you can add it later, so if you do not know it at this time, you can select "Next" as it is.
After confirming the contents, click the "Install" button to start the installation.
Close it when the installation is complete.
Verifying IIS Operation
Start "Internet Information Services (IIS) Manager" in the "Windows Administrative Tools" section of the Start menu.
When IIS Manager starts, expand Servers > Sites from the tree on the left and select Default Web Site.
Click *.80 (http) reference in the lower right corner.
If the web browser starts and the following page is displayed, it is working properly.
The firewall is set up automatically, so make sure it is visible even if you access it from outside the server.
However, keep in mind that in a cloud such as Azure, you may not be able to connect without releasing the HTTP and HTTPS ports even on the cloud side.