Always ask for a password when you connect with Remote Desktop
Page update date :

Page creation date :
summary
When exposing the server to the outside, we will strengthen security so that it is not intrusion as much as possible. One way to do this is to require a login password whenever you connect via Remote Desktop. Here's how.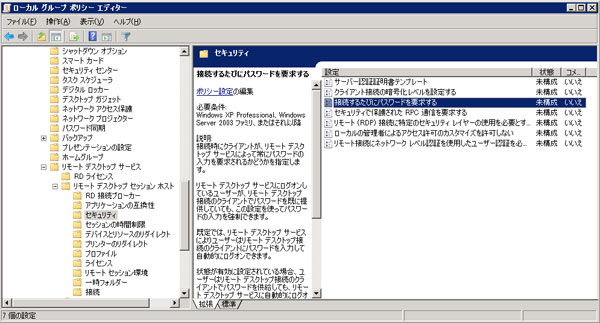 Operating Environment
Operation check environment
| | |
| --- | --- |
| Windows Server Version | Windows Server 2008 R2 DataCenter |
System requirements required
Windows Server Version
One of the following


Windows Server 2008 R2
Windows 7
Others (other

operating systems may have different settings, but can be configured using a similar procedure

)
substance
In the program search in the Start menu, type gpedit.msc and press Enter. Or you can also start it by typing "gpedit.msc" from "Run".
The Local Group Policy Editor window opens.
From the tree on the left, expand Local Computer Policy→ Computer Configuration→ Administrative Templates→ Windows Components→ Remote Desktop Services→ Remote Desktop Session Host, and select Security.
Double-click "Require password every time you connect" in the security list item on the right.
When you see the "Require password every time I connect" dialog, select "Enable" from the check in the top left corner and click the "OK" button to close it.
Try making a remote desktop connection and make sure you are prompted for a password.