Ah and Wars
At first
Multiplayer battle game exclusively for the Windows Store. This game was created for the Windows Store App Championship. (However, I do not participate in the championship itself.)
This game can be played on both Windows and Windows Phones. The content of the game is both the same.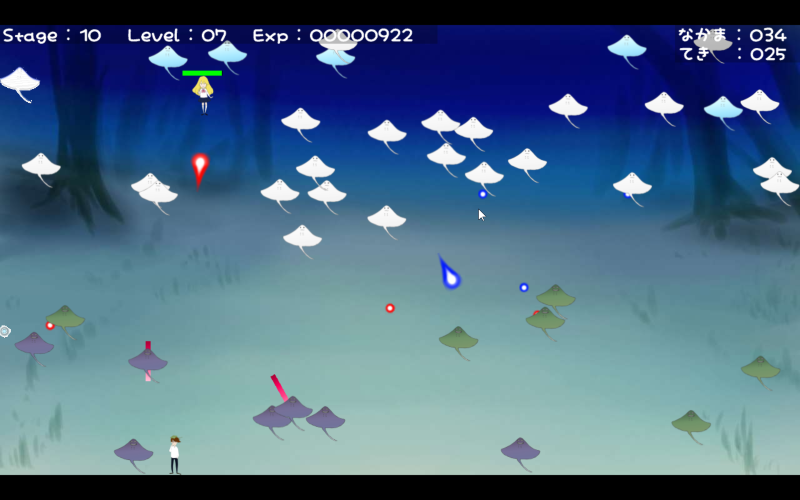 Operating environment
Published version
1.03
Version to be published
No current appointments
OS

Windows 11
Windows 10
Windows 10 Mobile
Windows 8.1
Windows Phone 8.1

CPU
What windows of the above OS works
Free memory
40MB or more
HD free space

Windows: 65MB or higher
Windows Phone: 35MB or higher

video card
What windows of the above OS works
Display size

Windows: 1280×720+
Windows Phone: 800×480+

Required interface
Mouse or touch device
other
Internet connection (if you post a score on Twitter)
How to download and install
The following steps are similar on Windows and Windows Phone.
way that one
Open the Windows Store page . (It must be the OS that the Windows Store app or the Windows Phone app can install.)
The store screen will automatically open. When the Atsu Wars page opens, select the "Install" button.
For Windows, after a while, you're done when you see the "Installation complete" toast in the top right corner. You'll see Atsu and Wars games in the Start menu. For Windows Phones, the Start menu displays the installation status, so wait for the installation to complete.
Way 2
Select Store from the Start menu.
From the search field, type "Atsu to Wars" and search. (It is in the upper right for Windows, and in the app bar below for Windows Phone)
When you see the "Atsu to Wars" screen, install it from there.
How to uninstall
For Windows
Look for "Atsu to Wars" from the Start menu.
Right-click the tile for the mouse, and drag the tile a little for touch to check it.
Choose "Uninstall" from the app bar.
For Windows Phones
Look for "Atsu to Wars" from the Start menu.
Press and hold "Atsu to Wars" to display the menu.
Select Delete.
Privacy Policy
See the following pages:
How to play
Purpose and Goal
Operate Shoko and Aiko and defeat the eis who lead Yoshio. The battle is a stage-based action battle, and there are up to 49 stages in total.
Menus, etc.
Basically, the menu is only a button press, so I select it with a mouse or touch.
battle
During the battle, it's a simple game where you only have to move your friends Shoko and Ayeko. It will automatically attack when an enemy comes nearby. To move a friend, select a friend with the mouse or touch, then drag it to the destination position.
Move well and fight off your enemies. The composition and number of friends and enemies vary depending on the stage, so the advantageous disadvantage is determined by how you move it. Judge the situation and try to fight.
To complete the stage, you either annihilate the enemy or defeat Yoshio. The conditions will be displayed before the battle starts, so please check in advance.
The remaining number of allies and enemies is displayed in the upper right corner of the screen. Not all characters are displayed on the screen, and characters that do not appear as reinforcements. The appearance position, frequency, and type of reinforcements vary depending on the stage.
Allies have "levels", and when you defeat enemies or clear stages, experience accumulates and increases the level. As the level increases, the strength of shoko and Aye children increases. If you can't clear the stage, it will be easier to clear it by leveling up and challenging.
When you clear the stage, the score is displayed, the level up message is displayed as the level goes up, and the score update message is displayed when the score is updated.
character
In this game, you'll see 4 allies and 4 different enemies. Each has different characteristics, so let's ascertain that point and capture it well.
partner
Name
Image
Life
Attack
Other
Shoko
There are so many.
strong
Use multiple weapons
If Shoko is beaten, it loses.
There is only one person, but it is quite strong, and the situation of the war often changes depending on the usage of the child.
They move fast
White Ray
few
weak
Short
Weak but large
Blue Ray
many
strong
long distance
slow
Stronger than white rays
The attack is a little slow.
Move a little faster
Yellow Ray
few
weak
long distance
penetrate
slow
Not very strong and a small number, but slightly recovers nearby companions
enemy
Name
Image
Life
Attack
Other
Yoshio
Very much
Use several types of attacks
Complete defeats with enemy bosses
It remains until the end roughly because it is considerably strong
Green Ray
few
weak
Short
weak come out a lot
Purple Ray
ordinary
weak
long distance
penetration
They move fast
It's going to attack from a great distance, so you need to approach and attack from here.
Black Ray
Very much
strong
It has the strength of the top class among Aye children, and is strong enough to finally defeat with a few Aye children
It is troublesome in many ways because it moves slowly, attacks from a distance, and is considerably blown away when attacked
score
When you clear the stage, the score by "level at the time of clear", "ally remaining", and "clear time" is displayed. If the best value is updated in any of the items, the score is recorded. Scores can be viewed from the Start menu.
Post on Twitte
After clearing the stage, select the "Post to Twitter" button to stream the clear score to Twitter. The post screen will be displayed on Internet Explorer, so please post as it is. A Twitter account and login are required to post.
About save data
All records of the game are automatically saved. When you quit the game, please exit as it is.
Windows and Windows Phone also sync your save data only if you're logged in with the same account. For example, if you advance to the fifth stage in Windows and then launch Atsu and Wars on your Windows Phone, you can play from the 6th stage. (Note, however, that the synchronization timing is not immediate.) The data so far will not disappear due to a mistake in synchronization timing.)
FAQ
The stage cannot be cleared because the enemy does not easily defeat it.
The later the stage, the more difficult it is, but some stages are more difficult depending on the configuration of allies and enemies. How you move your teammates on each stage will determine whether you can clear them, but the best way to clear them is to level up.
Once you've completed a stage, you can try as many times as you like, so it's a good idea to level up and try again. In addition, even if it is annihilated, the experience earned during the battle remains, so I think that there is also a challenge many times.
I want to clear the low level, but will the level not return anymore?
Once you've cleared a certain condition, you'll be able to select the player's level.
My fellow attacks don't fly straight to the enemy.
Character attacks have accuracy so they don't fly straight to enemies. The farther you are, the harder it is to hit, so to hit it for sure, get closer to the enemy. Also, the higher the level, the higher the accuracy.
Copyrights and Disclaimers
disclaimer
The author shall not be liable for any direct or indirect damages incurred by the user due to the use of this software, and shall not compensate any compensation. Please use it after understanding that.
copyright
This software is protected by the provisions of the Copyright Act of Japan and international treaties.
The copyright of this software (including programs and related documents) is in "Onodara".
About distribution
It is prohibited to extract and distribute some of the data.
Because this software is distributed through the Windows Store, no other distribution methods are allowed.
If you would like to introduce this software on the website, etc., please use the method of linking to"https://sorceryforce.net/".
We will respond by e-mail to you regarding magazine publications. (https://sorceryforce.net/home/inquiry)
About the material used
The software borrows the following materials:
About this software
This software is free software. There is no such thing as payment of fees by using it.
Software specifications are subject to change without notice in the future.
This software must not be modified or internally analyzed.
Upgrade history
Ver 1.03 (2016/08/11)
Support for hardware back button returns and game terminations on Windows Phone 8.1, Windows 10 Mobile
Ver 1.02 (2015/07/25)
Correct help typos
Simultaneous release of Windows Phone
Save data synchronization between Windows and Windows Phone
Ver 1.01 (2013/06/04)
Score display after stage clearing
Added the best score screen for each stage
Cleared stage selection (all versions were only reverted, ver 1.01 is bidirectional)
Player level selection (but must meet conditions)
Now that you can try the same stage again after completing the stage
Tweet clear score to Twitter (IE launch)
Reduce app file size by about 10%
Ver 1.00 (2013/05/16)
Miscellaneous (2013/05/26)
As mentioned at the beginning, this game is a game that I made with the thought of trying to put out an app in "Let's make it! I've known this project for a long time, but at that point I didn't have any idea of making it specifically just because I thought it was about "heh". Well, there was also what I was doing on another matter.
I said, but for some reason I was drawing Shoko's picture. Mysterious action of drawing without making an app. Even at this point, I didn't think about making an app at all. By the way, the picture is given to pixiv. (Link below)
So, I decided to make an app around May 6, 2013 (Monday) (and around the afternoon). I think it was like I was still playing what kind of game I was going to play. The deadline for this championship was Sunday, May 12, and it was a condition that the app was published to the Store.
I didn't have time, so I decided to borrow images and background music from a material store, and I made it mainly on the program. Even if you borrow the material, you have to match it to the game, so we made various adjustments. Well, this managed in about half a day.
It's a program, but in fact, this is a more difficult challenge, and I was thinking about creating games, but when you create games with Windows Store apps, only "C++ & DirectX" is supported as standard, and that's the only option. Well, there are also alternatives like games in C# + XAML and Javascript + HTML, but it was completely unknown whether we could create the desired game without advanced game control.
To be honest, I thought that it would be impossible to make it while examining the API from now on in C++ + DirectX, and I was suddenly frustrated, but at that time Reon Akasaka was writing an article on "MonoGame", and I decided to make it with this because I knew that the program can be made with almost the same code as XNA. I tried to make a sample lightly, but I was surprised that it moved as it was comparatively.
Even though I could make it in the same form as XNA, I didn't create libraries or anything, so I wrote programs from almost 1. Basically, I was able to move almost as intended, but I think it's better to be careful if you're made with MonoGame because you'll encounter some things that don't work, can't use it, or make incomprehensible errors. Even if you search for information on the Web, there is almost no information on Japanese sites, and it is a level of whether you can find it even in English-speaking countries. If you're using MonoGame, you'd probably only want to be able to solve it yourself.
It is around noon on May 12 (Sunday) that such a thing was completed. Three days to make the program, about two days to adjust the game. It is about 6 days in terms of the period, but since I worked normally on weekdays, the working time is actually about 30 hours. It is a little ambiguous because it was not counted finely. Because it was a person who was not able to live without sleeping, it slept normally without staying up all night and it lived.
As you can see, even though the game itself is made, it has not yet been raised to the store at this point. It is said that it will take about 2 to 5 days to review to raise it to the store, so it is already game over at this point. That's why I'm not in the championship. In fact, it was resented in the once screening, so it was originally useless in time . . .
It is a game made of this kind, but it is released for free, so if you can run the Windows Store app, please try playing. I think that all stages can be cleared in about one day. Save every stage, so it might be a good idea to play a little bit like one stage a day. From the web, you can search for "Atsuto Wars" at the following links and stores.