Mask Shards Where to get
Page update date :

Page creation date :
We summarize where to get the mask fragments.
map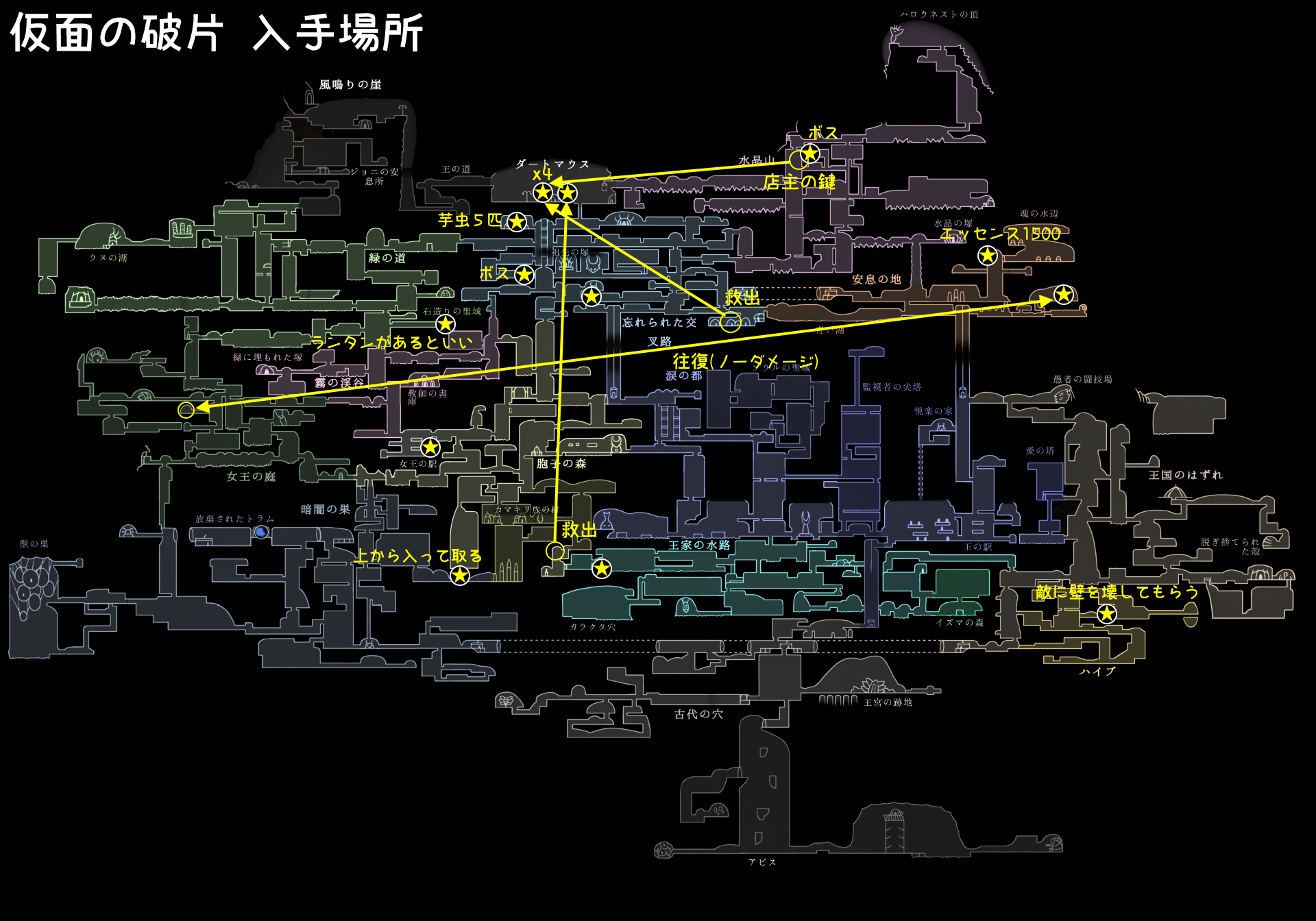 Where to get it
16 in total
The △ mark of essential items is not necessary by normal means, but you can go for the time being.
Where to get
itRequired Items
Dartmouth (Sly's Store)
You can buy 4 in total. If you buy the third or subsequent one, you need to bring the owner's key.

Sly Rescue
150 Geo
500 Geo
Shopkeeper's key
800 Geo
1500 Geo

The Forgotten Crossroads (Troubled Morlek)
The left side of the map. Originally, you need the claws of a praying mantis, but if you use the spike jump, you can go as soon as you reach the forgotten crossroad. You need to defeat the boss "Troubled Morek".
The Forgotten Crossroads (Caterpillar Father)
If you use your technique, you can rescue five caterpillars when you reach the forgotten crossroad.
Dirtmouth (Bretta)
You need to rescue Bretta at the bottom of the Spore Forest.

Mantis claws
Bretta rescue

Queen's Station
Take over the thorn with the praying mantis claw at the bottom right of the queen's station.
Forgotten Crossroads (Gorm Zone)
A gorm zone in the lower center of the map that cannot be climbed by jumping normally. If you guide the squid fly well, you can remove it without the claws of the praying mantis.
Greenway (stone sanctuary)
Inside the stone sanctuary at the bottom right of the map. It's dark, so you need a lantern.
Royal Waterway
Enter the royal aqueduct from the top and continue to the left while going left on the lower channel.
Crystal Mountain (Furious Beetle)
The room above the place (bench) where Suisho Goaim was. Requires a bunk jump.
The Land of Rest (Seer)
Land of Rest (Grey Mourner)
In the Land of Rest, you need to get a delicate flower from the gray mourner and go to the queen's garden without damage. It's easier to defeat enemies along the way in advance. Use the bench to revive enemies.

Queen's Garden Route opened

Nest of darkness
The passage to the left of the place where the king of praying mantises is. You can only take the route from the upper room.
Hive
Lower left of the large room at the back of the hive (in front of the boss). You need to induce the ramming of the enemy "Guardian of the Hive" to break down the wall.
Reference video
I made a video because I had another answer on how to remove the mask fragments of the Gorm area of the forgotten crossroad.