Extract audio from MP4 files to MP3 files
summary
Learn the steps to output audio from an MP4 file to an MP3 file.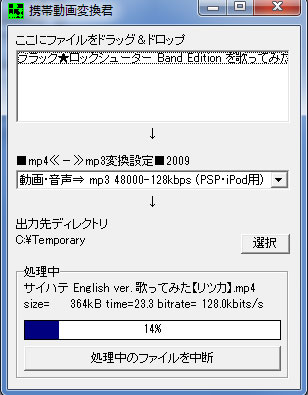 Operating environment
Operation confirmation environment
substance
Use "Mobile Video Converter Ver0.34" as a tool to extract audio from "MP4" file, which is a video file, to "MP3" file. Please download it from the link below.
After you have expanded the downloaded .zip file, double-click the 3GP_Converter.exe file to run it.
You should see a screen similar to the one shown on the right. The screen is very simple and very easy to understand.
Click the "Select" button to select the output folder after the file conversion.
Select the destination folder and click the OK button.
The path of the destination folder is displayed.
Then choose which format you want to convert. This time, I want to convert it to MP3 file, so select "Video / Audio ⇒ MP3 48000-128kbps (for PSP / iPod)". You can also convert to other formats if you want.
After that, select the files to be converted from Explorer in bulk and drag and drop them to the list above. The conversion starts automatically, so if you want to convert multiple files, add them together.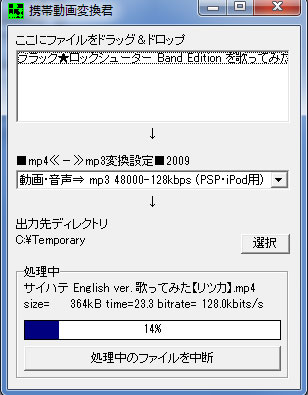 The conversion is performed automatically and the conversion progress information is displayed below.
When all the files have been converted, you will know that the MP3 file has been created in the destination folder.