Launch an FTP site on Windows Server (Intra)
Prerequisites
The contents introduced here assume the following conditions.
Basic authentication only
Do not use SSL
Use port 21
Intranet work environment
Create an account with an FTP connection
This time, we will set up a connection by basic authentication, so create an account when connecting. You create a Windows user account.
Right-click Start Menu and select Manage Computers.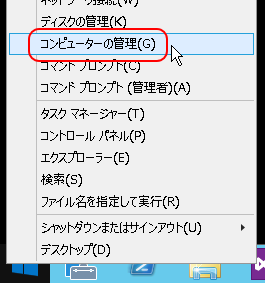 Right-click Users and select New User.
Specifies the user name and password to use when connecting via FTP.
Prevent users from logging on to Windows because they are only used with FTP connections. Double-click the user you created.
Select the "Groups you belong to" tab and delete Users.
Create folders to use for FTP destinations
Creates a folder to upload or download when connected via FTP. You create a physical folder in Windows.
You can create it anywhere you want. However, don't use folders associated with your Windows account or other locations that may change depending on your environment. Here we are creating "C:\FtpFolder\".
Set permissions to allow ftp accounts to access files in folders. Open the folder properties that you want to use for FTP, and then click the Edit button from the Security tab.
Click the "Add" button.
Specifies the account for FTP that you created. (I think that the server name in the figure is different, so replace it with the target server name)
Select the account you registered and allow the "Change" permission.
Just in case, make sure you have a file in place to make sure you're connected properly when you connect via FTP.
Build an FTP server
Install the FTP server role on Windows Server.
Run Server Manager from the taskbar.
Click Add Roles and Features.
Click Next.
Make sure role-based or feature-based installation is checked, and then click Next.
Verify that the server on which you want to install the FTP server role is selected, and then click Next.
Check web server (IIS).
A confirmation dialog will be displayed, and click the "Add Function" button.
On the "Select Features" screen, click "Next" without doing anything.
Click Next.
Check ftp server.
When you are done, click the "Install" button.
Wait for the installation to complete. Close the screen when the installation is complete.
Building ftp sites
I just installed the FTP feature and still can't access the FTP site. In this section, you'll build an FTP site.
From Server Manager, select the Tools menu and select Internet Information Services (IIS) Manager.
Right-click Sites and select Add FTP Site.
Set the FTP site name arbitrarily. Physical Path specifies the folder path for FTP that you created previously.
Leave the bindings as they are. Since ssl is not used this time, check ssl as "no".
Since authentication is required for accounts, check only "Basic".
When you return to the IIS management screen, double-click FTP IP Address and Domain Restrictions to open it. Here you can limit the IP address of the PC you can connect to. This setting is optional.
From the "Actions" menu on the right, click "Add allowed entry".
Here you can specify the IP address that you can connect to. In the figure, the IP address is set to 192.168.0.0 and the mask is set to 255.255.255.0, which allows access from 192.168.0.0 to 192.168.0.255. Find out what your IP address and mask mean.
Next, open FTP Authorization Rules. Here you can limit who can connect.
From the "Actions" menu on the right, click "Add permission rules".
You can set it arbitrarily, but only FtpUser is available via FTP.
Firewall settings
Configure the firewall so that ftp can access it from outside the server. For basic authentication without SSL, add rules because standard firewall settings do not allow access.
From Server Manager, select the Tools menu and choose Windows Firewall with added security.
Right-click "Rules of Reception" and select "New Rule".
Select Ports.
Select TCP and set the number of ports to 21.
Check Allow connections.
You can check everything, but you can remove "public" if it is intranet work.
Make the rules you add a descriptive name. This completes the construction of the FTP site.
Ftp connection confirmation
Try to make sure that other PCs can access it via FTP. If you can connect via FTP, you can use tools, etc. In the figure, it is accessed using the FTP command. For more information, see ftp commands. Here are a few simple steps:
Launch command prompt
Type ftp to start using the FTP command
Connect to server with "open <server name>"
Enter a user name
Enter password
"ls" command displays a list of files and folders in the root folder
Disconnect FTP with quit
Some clients will display a firewall permission confirmation screen, so allow it.