Startup folder path for each version of Windows
Startup folder path
The startup folder path for each OS in Windows is as follows:

English
| OS | Japanese Pass | Path |
| --- | --- | --- |
| Windows 8.1 | C:\Users<User Name>\AppData\Roaming\Microsoft\Windows\Start Menu\Program\Startup | C:\Users<User Name>\AppData\Roaming\Microsoft\Windows\Start Menu\Programs\Startup |
| Windows 8 | C:\Users<User Name>\AppData\Roaming\Microsoft\Windows\Start Menu\Program\Startup | C:\Users<User Name>\AppData\Roaming\Microsoft\Windows\Start Menu\Programs\Startup |
| Windows 7 | C:\Users<User Name>\AppData\Roaming\Microsoft\Windows\Start Menu\Program\Startup | C:\Users<User Name>\AppData\Roaming\Microsoft\Windows\Start Menu\Programs\Startup |
| Windows Vista | C:\Users<User Name>\AppData\Roaming\Microsoft\Windows\Start Menu\Program\Startup | C:\Users<User Name>\AppData\Roaming\Microsoft\Windows\Start Menu\Programs\Startup |
| Windows XP | C:\Documents and Settings<User Name>\Start Menu\Program\Startup | C:\Documents and Settings<User Name>\Start Menu\Programs\Startup |
About the startup folder
If you put a content file, such as a .exe file (a shortcut) or a text file, in the startup folder, the file will be automatically started after Windows starts.
What is startup behavior in Windows 8?
For Windows 8, it runs when the desktop is displayed, not when the first Start menu (in modern format) is displayed.
About the Windows 8 startup folder
In Windows 8, the startup folder can no longer be opened from the Start menu, as in Windows 7 or earlier, so you must open the folder directly from Explorer.
About the AppData folder
By default, appdata folders in Windows Vista and later are no longer visible. In Windows Vista, Windows 7, check "View all files and folders" from Folder Options.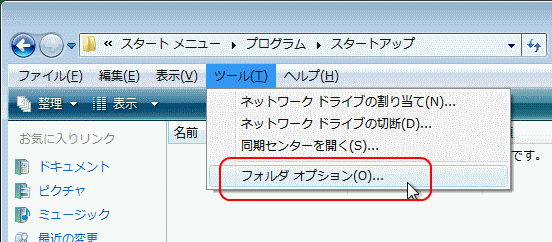 For Windows 8, check "Hidden Files" from the Explorer menu.