Back up your Windows system image
Page update date :

Page creation date :
Move the mouse pointer to the bottom right corner of the screen to show the charms and select Settings.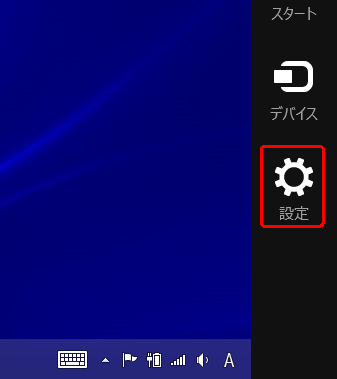 Select "Control Panel".
Select System Security.
Select File History.
Select System Image Backup at the bottom left of the window.
Specify the location where you want to save the backup.
If you have multiple HDDs in your PC and one of them can be used as a backup disk, you can select the drive from the top "On hard disk" and use it as the backup destination. Specifying a normal working disk as the backup destination doesn't make much sense as a backup (because it's a backup in case the disk you're using is broken...).
If you want to specify an external HDD or USB memory as the backup destination, select it from the bird disk above.
To specify a DVD or Bru-ray disc as the backup destination, specify "On one or more DVDs" in the middle.
If you want to back up to a shared folder or NAS on another PC on the network, specify "On network location" at the bottom. We will use this here as an example.
The destination path cannot be entered directly here, so click the "Select" button.
Enter the path where you want to save it. You can also specify the save destination by pressing the "Browse" button, but depending on the environment, the save destination may not appear, so in that case, you can enter the path directly.
When backing up to a shared folder, the format of the path is usually \<server name>< shared folder name> (< any path >)".
Enter a user name and password that has permission to access the shared folder, etc.
After setting, click the "Next" button.
You can choose which data you want to back up, but usually you want to back up the entire data, so leave all checked and choose Next.
For example, if you only have files stored on drive D and only want to back up your system, such as applications, you can uncheck drive D.
By the way, backups are on a per-drive basis, and you cannot back up on a per-folder basis within a drive (this is just a system image backup here...).
If the drive is encrypted, the following message will be displayed, so click the "OK" button. Backed up data is not encrypted.
Finally, confirm and click the "Start Backup" button.
Wait for the backup to complete. You can do other things during the backup.
Close it when the backup is complete. This completes the backup.
If you check the backup destination, you can see that a folder has been created.
By the way, the backup is actually a virtual disk. It can also be mounted on a virtual PC for example, Hyper-V.