Overview
This software is a software that can list various check items in daily life and work processes, check according to the application, and print the list.
You can create any number of checklists and manage them by folder configuration.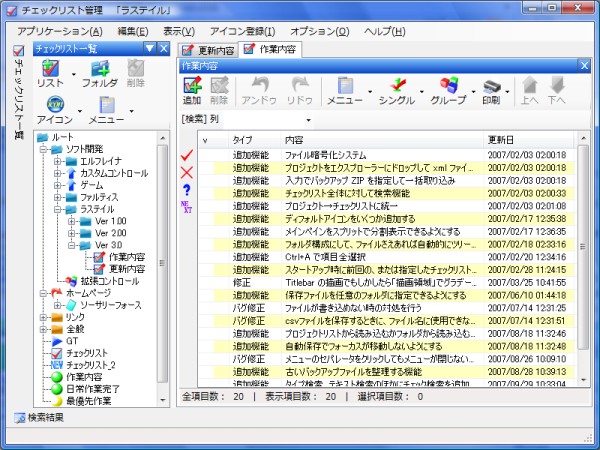 Here are some of the key features, useful features, and more.
It is very easy to input the contents of the check
Once you've added a check item, you can enter and select each item by simply clicking directly in the list. You don't have to go out of your way to display and enter another dialog.

Enter text with just a click on the list
You are free to register icons
In addition to the icons used for check marks, you can also register icons such as each checklist and folder by inging your favorite images. There is no limit to the type or number of icons, so you can create a list that will be fun just by looking at it.

Register icons freely
Multiple checklists can be edited at the same time
The checklist you're editing is managed by tabs, so you can open as much as you want and then switch between them to edit them.

Tabs can be changed by dragging
You can also split the view and edit it while looking at the two checklists at the same time.

Horizontal and vertical divisions are possible
You can separate checklists by folder
The checklist is displayed in a tree format instead of a monotony list structure, so you can create folders, tier them, and sort them according to their type and purpose. Even if you register a lot of checklists, you can close the folder, so it is rarely disturbed.
Also, the folder configuration matches the actual folder configuration, so you can copy the checklist file into that folder and it can be loaded automatically at Rastil startup.

Tier and manage checklists
Easy to check
You can select the check mark you have registered by clicking on the left column of the list. In addition, if you use the check bar, you can check the selected check items in bulk.

Icon specified directly on the left, check bar on the right
You can also use a single check to mark a specified check with one click without having to display a combo box.

The selected icon appears in the toolbar.
Input column of each check item can be set arbitrarily
The input items of the check items can be changed by column editing, and free data entry is possible.

Column items with default top and optionally customized bottom
Easy to see in group view
Group view allows you to sort by each selection, making it even easier to see. (Available in Windows XP and later)

The left is usually listed, and the right is grouped.
Search function
Each checklist has a search toolbar that allows you to search for a specified column.

Select a search column to refine
When you do a search, only the check items that were searched will be displayed.

Only searched items are displayed
LaStail also has a separate search feature that allows you to search multiple and all checklists in bulk.
When you perform a search, the results are displayed in the search results panel, and double-clicking on each item opens the checklist.
Icon registration is also easy
Once you have the icon registration dialog, you can easily register by simply dragging and dropping the image file in the list. In addition, large images are automatically reduced to icon size, so you don't have to go out of your way to shrink them with image editing software. You can also register by dragging the image displayed on the homepage directly. (In that case, please pay attention to copyright)

Icon registration by dragging and dropping
Password checklist protection
Checklists can be encrypted with a password. Since the password is attached to each checklist, it is possible to decrypt with the same password even if the file is moved to another PC.
In addition, there is a function to automatically apply the password temporarily during rastil startup so that you do not enter the same password every time you open the checklist, so you can save typing.
Checklist templates
You can save the column information for a checklist that you created as a template.
Saved templates can be used to create new checklists, or you can modify column information from existing checklists in bulk.
Checklists are automatically saved
The input is automatically saved when you close the rastil, so you don't have to go out of your way to save each one. In addition, it is possible to set the function to automatically save every certain time, taking into account the possibility that it will not be possible to save due to some kind of failure.
Undo function
If you enter or delete a check item with the wrong text, undo makes it easy to undo it while the list is open.
Free layout with docking panels
Checklist tree panels, search panels, and search results panels can be docked to windows or floated. In addition, there is a "hide automatically" function that allows you to display it only when you need it, allowing you to edit the free layout and checklist in a wide area.

Can be placed in a free layout, such as left and right top and bottom, docking state, automatic hiding, etc.
Checklists can be printed on paper
Checklists can be used not only on software, but also as checklists on paper by using the print function. Layouts such as column widths and fonts can be set arbitrarily.
Because it uses standard printing functions, you can output it to a file such as XPS or PDF if you have a plug-in.

Print preview screen
Synchronize checklists
Because checklists are managed on a file-by-file basis, earlier versions of Ver 4.0 could not determine which files were up-to-date when a project file was shared by multiple users or synchronized files across multiple PCs.
Ver 4.0 now checks to see if files or each check item has been updated, so you can keep up-to-date with multiple users and PCs.
All files you create are in XML format
All files created by Rastil, such as checklist files, are stored in a scalable text file called XML. Other software may be able to load or edit it.
Bulk backup of files
If you want to back up files created by Rastil somewhere in bulk, you can use the "Backup" function to output zip files together in any location. Of course, if necessary, you can also restore data from the ZIP file you backed up.
Backup
It also has a function to automatically back up for each specified interval day, so you don't have to go out of your way to back it up manually.
Task tray placement and auto-launch
By placing the rastil in the task tray, you can save space in the taskbar (optional). You can also start Rastil automatically when you start the OS by registering with startup (optional).
How to Create Wizard
If you're still not sure how to use Rastil, Wizard Help provides instructions on how to use it.
Wizard Help is automatically displayed when you start Rastil, so it prevents the often-possible phenomenon of not knowing how to use it without knowing the existence of help. If you no longer need it, you can also set it not to be displayed next time.
Also, because the window size is small, it does not get in the way when you interact with it while looking at help.